Summer Grounds Care and Maintenance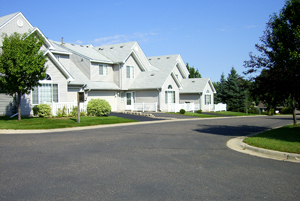 Your landscape should shine during the summer growing season. With our help and experienced staff, it will. For an estimate on your project, contact us today.
Mowing
Most properties require weekly mowing during the summer growing season. Our uniformed professionals take care to properly mow your grounds. We pay special attention to business traffic and try to mow during low volume times as a convenience to our commercial clients.
Fertilization
A summer slow release application of fertilizer is applied. Weather patterns will influence timing of fertilization and weed control applications.
Weed Control
During the growing season, spot applications of weed control will be conducted as necessary in both plant beds and other areas of your grounds. The most common areas needing spot weed control include: walks, drive way areas, and plant beds.
Tree and Shrub Trimming
Trimming of trees and shrubs to be completed in a timely manner as deemed
necessary by APS and the customer.
Additional Services
Landscape Renovation and Repair
Mulch and Rock Installation
Drain Tile Installation
Slit Seeding and Sod Installation
Turf Aeration
Tree/Shrub Replacement and Pruning
Brush/Stump Removal
Tree and Shrub
Annual Flower Beds/Containers
Parking Lot/Underground Garage Sweeping
Turf Fertilization/Weed Control
Tree and Shrub Fertilization, Disease and Pest Control
Weed Control/Non-turf Areas
Skid Loader Services
Irrigation Services
Spring Start Up
Repair
Additions
Winterization
System Evaluation
Excellence is a habit, not just a slogan.
MNLA member.
Our service area includes: Cottage Grove, Woodbury, Oakdale, Inver Grove Heights, Stillwater, Maplewood, Hastings, St. Paul, Minneapolis
Contact us for an estimate on your project today!